Futebol, as locals call it, is the national sport. It's a Brazilian passion and art. Brazil is the only country that has won five World Cups. The word
penta
is in the minds and hearts of all Brazilians. Soccer history would not be the same without names like Pele and Ronaldo. Almost all major soccer teams in the world today have at least one Brazilian player, more if they're smart.
Rio de Janeiro has an key role in Brazilian soccer history. It's home to legendary Maracanã Stadium.This is where the World Cup happened in 1950 (we lost). Carioca soccer teams are so popular, that Brazilians from other states usually have a favorite team in their hometown, and another one in Rio.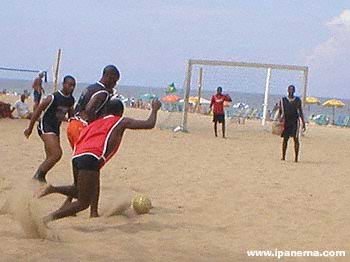 In Portuguese you don't say you support a team. You say I am Flamengo (or Fluminense, or Botafogo...) But things go deeper than that. About 90% of Brazilians are opinionated soccer coaches, conversations can last hours.
Watching is not enough, though, playing is where the real fun is. Almost all men and boys have played, or still play soccer on a regular basis. It's picking up with the girls, too.
Playing soccer on the beach is great. If you get hot while playing, instead of hitting the showers, you go for a quick dip. In seconds you're fresh, and ready for more! Beach soccer is very fast, and exciting to play or watch. As the field is smaller, and sand is much softer than grass, players do not hold back their efforts. Foot-volleyball, is also very popular. You need fewer players, and it is set in a volleyball court.
---