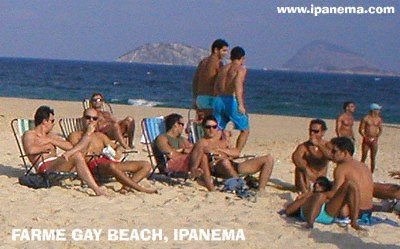 The gay spot at Ipanema Beach is a little to the East of Rua Farme de Amoedo (see
map of gay highlights
). This is the best place to make friends with locals in a relaxed atmosphere, away from the
bars and club
scene.
While bears and trannies prefer to meet in Copacabana's Bolsa, Gay Farme is Barbie Land. Before you ask, Barbie is how locals call muscled South Side gay men. Waxing is optional... You don't have to be in top shape to join the fun, though. Farme is so traditional with the gay community, that even beach vendors display the rainbow flag.
If you're in good company and feeling romantic, go ahead and cuddle. There are a lot of gay and lesbian couples doing exactly the same thing. Kissing, holding hands and other displays of affection happen all the time.
All Brazilian and foreign gay visitors to Rio know about Farme Beach. It's very international and friendly. If you've never been to a gay beach and you're curious, you're welcome to stop by. The gay beach is half a block from a beach soccer field, less than 10 minutes from Cap Ferrat.
You may run into local TV stars, stranded socialites, families with children, there's a little of everything. As in other parts of the beach, you don't have to bother bringing a chair or an umbrella. There's everything for rent or sale. Party promoters often distribute flyers, with discounts to gay parties and clubs.
After the beach, many gays and lesbians stop for a beer or snack at Bar Bofetada, on Rua Farme de Amoedo. If your hotel is away from the beach and you need to freshen up, there are two gay baths nearby with steam rooms and showers. If you want to go to a better restaurant after the beach, we suggest you bring along a change of clothes. More sophisticated venues do not allow you to eat in your wet beachwear...
---