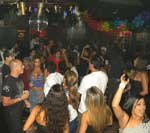 Rio has literally hundreds of dance clubs. But you do not have a lifeteime to stay in town. We picked out the best venues for you. You will find the address, phone, and a map with directions.
Now let's start with the basics. Parties usually start at 11:30 or midninght and they may go on until very late. Rio has a zero tolerance to drivers under the influence, so even locals usually go by taxi. You must be 18 or older to enter most places, and this is the legal age for drinking. Bring along some I.D. Drugs are illegal in Rio (you may be frisked), and closed spaces are non-smoking.
From Ipanema to Lapa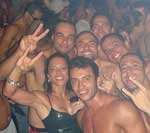 There is life on the West Side of Rio, and we have included some favorites. Most visitors stay on the strip from Leblon to Centro, though. The good news is chances are there's a great nightclub in a walking distance or a short ride away. We have reviewed all clubs to give you an idea of what to expect. Click on the map numbers for details.
Big parties happen mostly on weekends or before holidays. We provide links to the webpages of all clubs suggested. Click on the names to find out what is happening. Sample the variety, and go easy on the caipirinhas, please.