Carnaval 2014 happens from March 1 (Saturday) through 4 (Tuesday). We suggest arriving a few days earlier. There's so much to do and see during Carnaval that you will not have much time left to
explore the city
.
Try to plan your Carnaval activities ahead to sample the variety. Include in your must-do's the Samba Parade, street carnaval, and balls.
The whole summer is Carnaval season. To avoid the higher rates charged by hotels during the main event, you could arrive one or two weeks ahead. Banda de Ipanema opens street festivites two weeks before Carnaval, on February 15.
On the following weekend on Saturday (Feb. 22) Banda Simpatia é Quase Amor attracts a young and lovely crowd to Ipanema Beach. We are happy to share the images with you. Watch also the video of Carmen da Mala singing The South American Way.
Samba School rehearsals are another great pre-Carnaval idea. They happen every weekend at the samba courts, known as quadras de samba. These venues are in distant areas that are tricky to get to. Go with a group in a package including a local escort, and round-trip transportation. Once you're inside, it's very safe. Samba school percussion bands or baterias sometimes play live at popular South Side dance clubs and venues.
The Samba Parade at Sambódromo
You may also consider a visit to the new City of the Samba, an area that was built specifically to lodge the workshops of Samba Schools, near the docks in the Downtown area. Though some details on floats are kept covered from prying eyes, you can see costumes being handcrafted.
The 2014 Special Group Samba School Parade happens at the Sambodrome on March 2 and 3. The show starts at 9 p.m. and ends only with sunlight on the next day. Do not let scalpers take advantage of you.
Here is the face value of tickets as shown at the website kept by Liesa. On Sunday there was a line-up of six samba schools. On Monday six other samba schools do their magic for the grand finale. And on the following Saturday, March 8, it is time for the Champions' Parade, with only the best schools of the year.
Vila Isabel was the champion of Carnaval 2013, and Beija-Flor and Unidos da Tijuca were the second and third best, respectively. The renovated Sambodrome is prettier than ever, acoustics have improved dramatically - and there are even more seats than before.
Street Carnaval set new records, with over 400 bandas and blocos. Costume Carnaval Balls are back to their Golden Age, with incredible live attractions, luxurious decor, and affordable prices. Tthe off-Carnaval circuit features a selection of parties with VIP international DJ's at major clubs and venues.
| | | |
| --- | --- | --- |
| March 2 - Sunday | | March 3 - Monday |
| IMPÉRIO DA TIJUCA | | MOCIDADE |
| GRANDE RIO | | UNIÃO DA ILHA |
| BEIJA-FLOR | | VILA ISABEL |
| SALGUEIRO | | IMPERATRIZ |
| MANGUEIRA | | PORTELA |
| SÃO CLEMENTE | | UNIDOS DA TIJUCA |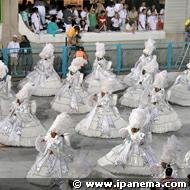 This is the line-up for Samba Schools in 2014. If you are going to march with any of the samba schools, the concentration of odd numbered schools is at the side of building Balanca Mas Nao Cai. Even numbered schools concentrate on the side of the Correios/Cedae, and the Post Office Building.
The subway is open all night, but you have to walk a bit - and I got lost the last time I tried. Yellow cabs cannot drop you off at the door unless they purchase a special free pass sticker. I prefer to take the special taxis that leave you inside the Sambodromo.
| | | |
| --- | --- | --- |
| Feb. 28 - Friday | | March 1 - Saturday |
| EM CIMA DA HORA | | TRADIÇÃO |
| UNIÃO DE JACAREPAGUÁ | | ALEGRIA DA ZONA SUL |
| PARAISO DE TUIUTI | | RENASCER |
| ROCINHA | | PORTO DA PEDRA |
| UNIÃO DE PADRE MIGUEL | | PARQUE CURICICA |
| SANTA CRUZ | | INOCENTES |
| CUBANGO | | VIRADOURO |
| ESTÁCIO | | IMPÉRIO SERRANO |
| | | CAPRICHOSOS |
Group A features Samba Schools of the Access Group. Many of them have been part of the Special Group, and others that would love to climb their way up. Prices of tickets are much more affordable, and costumes, too. If you are on a budget it is your chance to watch the show live. It starts at 10 p.m. Try to get your tickets at face value, if possible.
This event is broadcast live, and shown on Rio de Janeiro TV only. In other States they show the Samba Parade in São Paulo. Cariocas are very self-centered when it comes to Carnaval and everyone has their favorites on each night of the parade.
Feb. 27 - Thursday
Feb. 28 - Friday
March 1 - Saturday
This is the first official Carnaval day. Banda de Ipanema concentrates at Praça General Osório at 4 p.m. At night do not miss the legendary ball at the Copacabana Palace Hotel. Luxury costumes or black tie are mandatory. You will rub shoulders with a number of international and local VIP's, top models, the works. The Week is probably the best bet for clubbers, gays and lesbians (dance music sets the pace, not samba). Group A Samba Schools parade at the Sambodrome starting at 7 p.m. onwards, trying to climb their way up (or back) to the special group. Tickets and costumes are lower-priced than at the main event.
March 2 - Sunday
Today Banda Simpatia é Quase Amor takes over Ipanema Beach, with as many as 50 thousand revelers! This is your first chance to watch Special Group Samba Schools march at Rio de Janeiro's Sambodrome. The show starts at 9 p.m., and ends around 6 a.m. There will be 6 samba schools, and each has from 70 to 85 minutes to march. Invest on a seat in a good sector. The Sambodrome has just been renovated, and now the even side mirrors the odd side. With an additional 12,500 seats, acoustics also improved. Prices offered by online vendors are marked up as much a ridiculous 150%, so spend you money wisely. More details are available at Meet the Sambodrome. If you are traveling on a budget, watch the schools concentrate outside the Sambodrome, and enjoy the live music shows at Terreirão do Samba!
March 3 - Monday
Monday is the second day of the competition. Six other samba schools take over the Sambodrome runway known as the Passarela do Samba. Catch up with your sleep first to enjoy this samba marathon! If you are game for new experiences, consider marching with a Samba School. Some Cariocas march with as many as 3 or 4 on a single night! You do not have to go that far, but taking part in the show is such a unique experience, that you could at least give it a though t. If you are on a budget, watch the concentration outside the Sambodromo, go to the balls, or watch the shows at Terreirão do Samba.
March 4 - Tuesday
Mardi-Gras or Fat Tuesday is another day full of activities. In the afternoon Banda de Ipanema parades for the last time of the year. Bring your camera to capture the images of the hilarious drag queens that march in front of the band. At night you have a number of balls to choose from. At the Jockey Club and Club Scala there are gay costume balls. They are very straight-friendly and even broadcast live on TV! Party with the most exotic collection of characters you will ever see! Wear something colorful and fun, and you may be picked out for an interview.
The winner of the Samba Parade is crowned on Wednesday. It is worthwhile staying in town for a few more days. The Winners Parade is on Saturday, February 25. It includes the six special group schools that made the best score, and the winner of the Group A. On Sunday February 26 do not miss Monobloco, attracting as many as one million revelers to Downtown Rio.
March 8 - Saturday
March 9 - Sunday