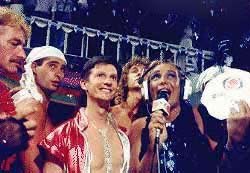 In addition to the
Samba Parade
, and all the
fun in the Streets
, Rio offers a selection of Carnival balls you really should not miss. You won't have to spend a fortune to have a great time. Tickets to most balls are affordable. If you are coming with a group you may reserve a table, or even a box.
A true Carnival Ball features live music. It's usually 2 bands taking turns, and sometimes there is one or more guest vocalists. Samba percussion is very loud. Bring earplugs if you have sensitive ears. Some balls are broadcast live on TV, and it's really funny watching reporters interviewing the almost-gone-deaf patrons (see True Carnival Stories).
Carnaval Balls Review - 2012 edition
In 2012 the Oficial Gala City Ball on Thursday happened at the Jockey Club. Ricardo Amaral, legendary owner of clubs that made history in Rio such as Hipopotamus and Papagaio, is back in the scene. Guest performers include Eduardo Dusek, Jair Rodrigues, and even girls group As Frenéticas! More details at the latest edition our Carnaval Party Planner with links to all events!
We stick to tradition and suggest the Copacabana Palace on Carnival Saturday. Tickets are not cheap, but the setting is fantastic. Attractions include a number of local socialites, international stars, actors, soccer players, models from top agencies (possibly on freebies).
Club Scala moved from Leblon to Downtown Rio. Yet they still have a line-up of balls happening every night. Their most famous ball, the Gala Gay on Tuesday, now has a competitor. On the same night there's a Gay Costume Ball at the Jockey Club. These are straight-friendly events. Dress up and join the fun!
This rebirth of wonderful glamorous balls is really a welcome addition. International visitors sometimes feel more comfortable doing the off-Carnaval party scene. But Cariocas have a culture of dressing up to these events, and now they have the opportunity to do this again!
Carnaval Balls have a long tradition in Rio
The first big Carnaval Ball happened in 1846, promoted by the Italian wife of a hotel owner. Clara Delmastro missed the glamour of the Venetian Balls. Over 1,000 people showed up at the party at Teatro São Januário!
And then the Copacabana Palace happened. The landmark hotel founded in 1924 brought glamour and international attention to Rio - this is where Fred first met Ginger! Hollywood mixed with local aristocrats. Jorginho Guinle hosted fabulous Carnaval Balls until 1973!
Another ball that became an institution was the Official City Gala Ball at the Municipal Theater. The first edition in 1932 had 4,000 patrons including President Getúlio Vargas. The balls went on until 1975 when experts concluded that all the thumping was literally damaging the structures of the historical palace. They changed venues and went on until 1991.
In the 70's and 80's balls spread to venues like Clube Sírio e Libanês, Iate Clube, Monte Líbano and Canecão. Guilherme Araújo promoted luxury balls at the Sugarloaf, and Ricardo Amaral started the trend of feijoada-chic with T-shirts as the invitation card. In 1993, after the Copacabana Palace was purchased by the Orient-Express Group, the luxury costume ball was reedited. Always on Carnaval Saturday, they remained as a big reference of a golden era that left nothing but good memories. More about Carnaval history here.
Gay Costume Balls are Fun!
Gays, lesbians, bisexuals, transgendered, drag queens, and transvestites from all corners of the world come and celebrate Carnival in Rio. They can be seen in all their glory on floats at the Samba Parade, stopping traffic at the street festivities, or having a great time at the balls. For years the Scala Gay Costume Ball in Leblon was the main even.
The number of exotic characters is astounding, and you can count luxury costumes by the dozen. If you are allergic to feathers, stay home... This ball is so colorful and fun, it is even televised!
Right out the entrance they set a runway, and a crowd of people cheers the newly arrived. Straights are very welcome, and pretty much part of the scene! Just make sure to wear a costume don't spoil the fun.
Now there are news on the front. Scala moved to new headquarters in the Centro of Rio. And Ricardo Amaral came back to the scene, promising to bring glamour back to Rio's Carnaval Balls. His Gay Ball also happens on Tuesday, hosted by actor and performer Rogeria.
Carnival Ball Etiquette
Tickets are for sale at the box office of clubs and venues where balls happen, all you have to do is enter the line. If you prefer to plan everything ahead, some balls are good bets (see bottom of this page). Call for box office hours, and purchase your ticket a couple of days earlier if it makes you feel safer. Some balls also sell tickets online with a small service fee.
Costumes are not mandatory, with the exception of few balls. Putting on something special will help you get in the right mood, though. If you are traveling with a group, coordinated costumes are a lot of fun. Bermuda shorts and the old Hawaiian shirt will do fine, but we know you can be more creative than that..
Avoid reserving tables right next to the dance floor. You would have to spend the night shooing away people who want to do the samba standing on your table, of all places! The more stuff you bring, the more you have to worry about. Check our Carnaval Party Planner for a complete listing of the best balls happening in Rio! As many promoters and producers only announce details sometimes just a few days before keep a mark to the Party Planner, and always refer to the latest edition!
Bonus Video - Grande Baile Gay with As Frenéticas!