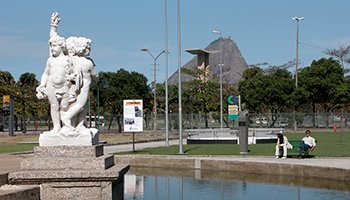 With over 450 years of age, Rio de Janeiro is a find to history buffs. We went through it all, since the Portuguese chose to settle around Guanabara Bay. Many of the remnants of our colonial and imperial periods are located in Historical Centro.
Cultural centers, museums, concert halls, the Municipal Theater, and constructions dating to all eras, including contemporary, set the scene. There are lovely parks, lively areas with a bohemian heart at night, and this is also our business and financial center. You will even see Cariocas wearing a suit and tie during the day - don't be alarmed.
There are several good reasons to choose a hotel in Centro. Shopping or window-shopping at the open mall of SAARA is a must. Most properties are clustered around areas served by a subway station with quick access to South Side beaches. This is where many of the big parties and shows take place. There are alternatives in all price ranges, and they tend to be more affordable.
Santa Teresa can be considered uphill Centro. In addition to the family inns and hostels there luxury Rélais & Chateaux Santa Teresa. The view, spa, pool area, restaurant and bar come with the designer rooms.
This page includes hotel suggestions carefully picked up by our travel experts based in Rio, we know our way around town. We have recently added buget options that are favorite with our visitors. As Rio can be a very hot city, there are some basics we make sure are available. Starting with air-conditioning and private bathrooms, your personal expectations and budget are the limit. Bookings are processed in real time, and the wholesaler offers a best rate guarantee.