The lodging scene in Barra da Tijuca and the West Side of Rio has improved dramatically in the latest years. This is where you find many of the new four and five-star hotels owned by premium international and domestic chains. Barra da Tijuca Beach is lovely and huge.
Along the ten miles of coast you will find beachside properties offering rooms with a wonderful view. Many of them offer facilities like a pool with sundeck, gym, sauna, restaurants. There are also more affordable hotels with a great location.
In addition to the beach, Barra da Tijuca also has beautiful lakes, and ecological park, and the largest shopping malls in the city. The Convention Center RioCentro, Cidade das Artes, Rock in Rio and the Olympic Park are also here.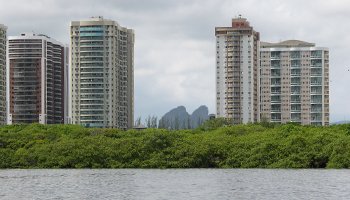 For practical purposes we are listing under Barra da Tijuca your best lodging options on the West Side of Rio. This part of the city is not yet connected by subway to the South Side and Historical Rio. It is served by express buses. You are near the preserved beaches of Prainha and Grumari.
Use the map below for reference. Request your reservations online. It's a premium service with bookings in real time, instant confirmations, and our wholesaler offers a best-rate guarantee. Click on the names of properties for more details.