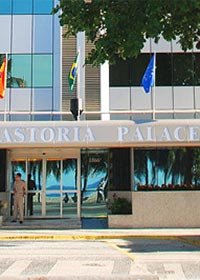 Astoria Palace HOTEL
Av. Atlantica, 1866 - Copacabana
Astoria Palace HOTEL
Address:
Av. Atlantica, 1866 - Copacabana
About the hotel: Astoria Palace is located right along Copacabana Beach, with a great location and view. There are 116 rooms with four denominations: standard, luxury, super luxury and palace suite. The hotel offers a pool with ocean view, a bar, steam room, business center and Internet facilities. Non-smoking floors are available. 24-hour room service.
About the location: The hotel is centrally located right along Copacabana Beach near all attractions. There is a subway station nearby and you are surrounded by excellent restaurants, cafes, shopping, and nightlife opportunities.
Near the beach: Yes!
Oceanfront: Yes!